Hello there you passionate coffee drinker!
In this review I will talk to you about the Columbia San Alberto coffee beans, from April Coffee Roasters, from Copenhagen.
It's a roastery opened at the end of 2016, by Patrik Rolf Karlsson, Swedish by origin, that used to work in the past for top European roasters, such as da Matteo (Helsingborg) și Five Elephant (Berlin), finalist at the Coffee Masters tournament, and other important roles in international competitions.
He moved to Copenhagen in October 2016, after he fell in love with the gastronomical culture of the city, and the dedication of people for quality and good taste.
Priciples that he embraces also, and that determined him to start his own project, April Coffee Roasters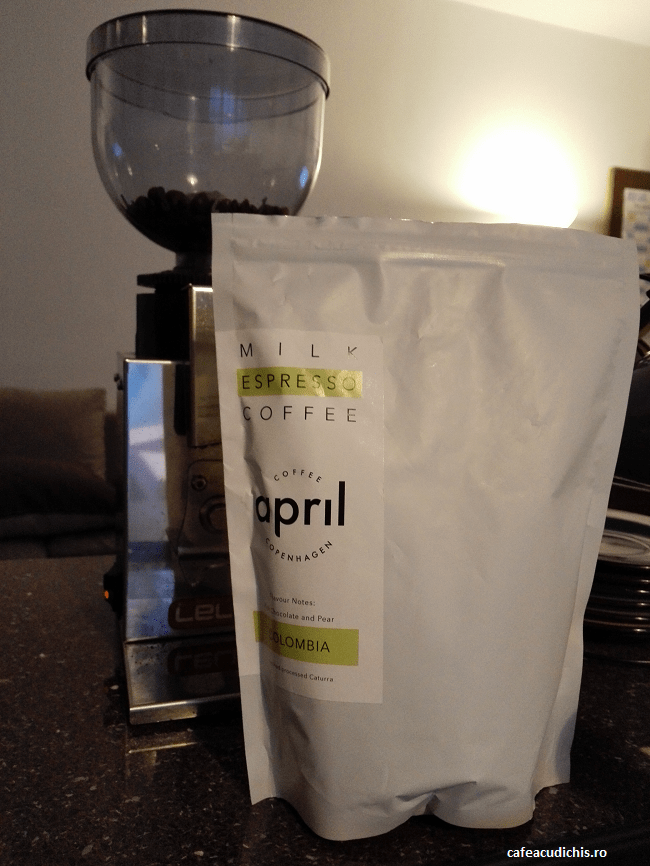 Coming back to our coffee at hand,
Technical details
Origin: Columbia
Farm: San Alberto
Altitude: 1.550
Variety: Catura
Processing: Washed
Roasting profile: Espresso
Notes developed: fruity, pear and sweet chocolate, medium body and low acidity
Weight: 250g
Columbia San Alberto – April Coffee Roasters – Tasting
It was so good for espresso, that it didn't get to be tested with other methods. The aroma of the coffee is brilliant, hell I would put it as a room freshener, if I could.
I have tried different variations for the espresso, between 25 and 35 seconds of extraction, with 17g and 18g of coffee in the portafiltre. In the 17g with 30 seconds version the espresso had the most balanced taste.
The roaster recommends that you stir the coffee with spoon, so that the 3 layers of the espresso combine, for a perfectly balanced taste.
In the cappuccino the fruity notes are emphasized, and the milk adding to the sweetness of the drink.
In the end, Columbia San Alberto from April Coffee Roasters, has a special aromatic profile, that for sure deserves to be tried.
You can buy the coffee from April Coffee Roasters in Romania, from Orygyns Coffee Shop, in Bucharest.
Until next time, happy coffee tastings!