Hi there inspired coffee addict,
I briefly presented in the review of Columbia San Alberto, from April Coffee Roastery, the man behind it all, Patrik Rolf Karlsson.
For Cafea cu Dichis, Patrik has given us an interview about his life in the specialty coffee industry, a real source of inspiration and determination, proof that if your passionate something, you can do anything.
Cafea cu Dichis: Patrik, first of all thanks for the time for this interview, I know that you are really caught at the roastery in this period, I really appreciate it.
Patrik Rolf Karlsson: The pleasure is all mine!
Cafea cu Dichis: Tell us a bit about yourself and how did your passion for coffee start.
Patrik Rolf Karlsson: Sure. I'm 26, and I'm from Sweden. I am an alumnus of some of the most prestigious roasteries in Europe, like da Matteo (Helsingborg) and Five Elephant (Berlin), a finalist at the Coffee Masters tournament, speaker at the Barista Guild of Europe CoLab, and coach in 2016 at the World Brewers and World Barista Championship. Today, I am running my own business: April Coffee, a roastery from Copenhagen, Denmark.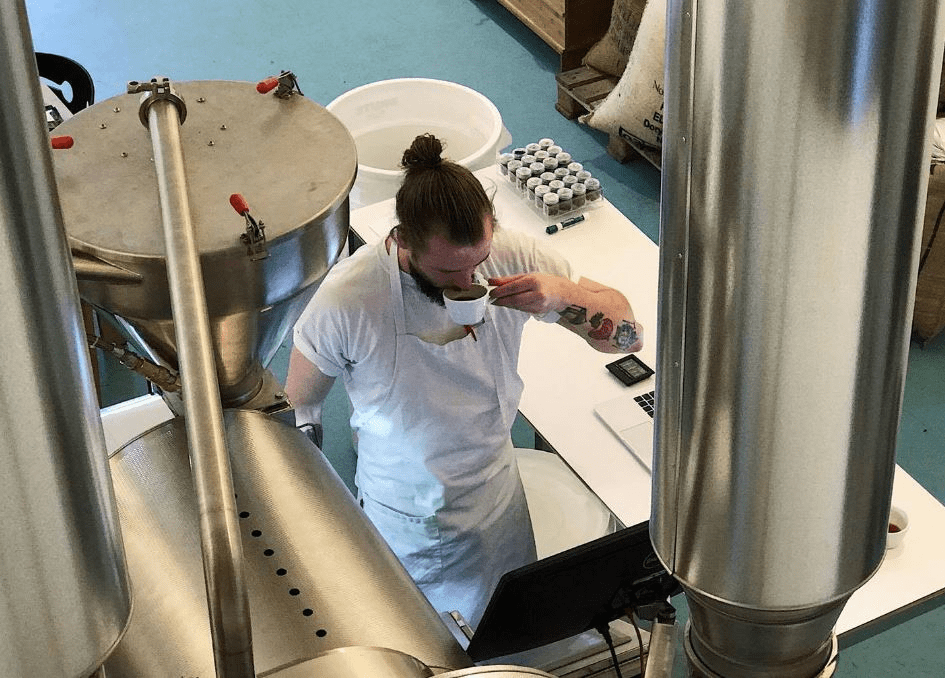 Cafea cu Dichis: When did you drink for the first time coffee?
Patrik Rolf Karlsson: 18 Years old. It was cool to hang out in coffee shops.
Cafea cu Dichis: When did you start working in coffee and why?
Patrik Rolf Karlsson: I started at da Matteo in Gothenburg, my hometown. I did as most people in the industry: you start doing dishes and work yourself up. I went from running an entrepreneurial project to coffee because I was fascinated by how the coffee industry was developing. Right from the beginning, I spent a lot of time practicing, researching and testing on my free time. I still do that today. For every door you open there is always something new to explore. After six months behind the bar, I ended up in the roastery together with Christian Gullbrandsson, who was and still is head of the da Matteo roastery. He taught me a lot and most importantly he gave me an opportunity to experience roasting. I am very fortunate to have had the opportunity to start my career at da Matteo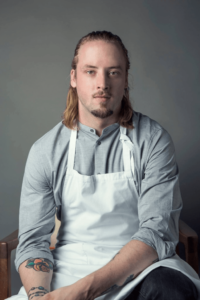 After a few years my curiosity took over and I needed to see what was happening in coffee around Europe, and I ended up in Berlin, working as the Head of Roastery at Five Elephant Coffee Roastery. It was a two-year long intensive process. I only had a few days over that time where I wasn't in the roastery, and I finally got the opportunity to explore as much as I wanted.
Along that time I started to travel around and share ideas about coffee, attending and giving presentations at workshops all over the world.
Cafea cu Dichis: Why specialty coffee?
Patrik Rolf Karlsson: Because of Matts W. Johanson, founder of da Matteo. He made me realise the potential and if you work hard enough you can create anything you want.
Cafea cu Dichis: What preparation method would you recommend to a coffee enthusiast for home usage?
Patrik Rolf Karlsson: Wilfa home brewer and grinder.
Cafea cu Dichis: As a coffee professional, how many coffees do you drink per day?
Patrik Rolf Karlsson: Just one 🙂
Cafea cu Dichis: Tell us more about April Coffee Roastery. How did everything start, and what is the story behind the name?
Patrik Rolf Karlsson: The name is rooted in the importance of seasonality when it comes to coffee quality. April is also my favourite time of year. A time for inspiration and realisation of ideas.
I am still at a stage in my life where I am curious. Behind every door I open there is more to discover. Starting my own business gives me the opportunity to explore the things that I think will shape the future of the coffee industry.
Cafea cu Dichis: if there is one thing that you could recommend to a home barista to do, that would help him make the most of his specialty coffee, what would that be?
Patrik Rolf Karlsson: Work with good water.
Cafea cu Dichis: Patrik, thank you very much for your time with this interview, and all the best and success with April Coffee. I can't wait to try your other coffees as well.
May you have an inspired day!