Hello there you passionate coffee drinker,
In this review, we will talk about Ethiopia Shakisso, roasted by White Label Coffee, a specialty coffee roastery in Amsterdam.
The coffee used in this case comes from the Sidamo region, in the south of Ethiopia, well known like Yirgacheffe, for its coffee with fruity and flowery notes.
Ethiopia Shakisso – Technical details
Origin: Ethiopia
Region: Guji, Oroma, Sidamo
Altitudide: 1.800
Variety: Heilroom mix
Processing: Washed
Roasting profile: Filter
Notes developed: citric and floral notes
Body: low
Acidity: medium
Weight: 250g
 Ethiopia Shakisso – White Label Coffee Amsterdam – tasting
The recommended roasting profile for this coffee was filter, but I couldn't help it, so I tried it also in espresso.
I've tried as usual several espresso variants, from 17g of coffee to 18g, extraction time from 22-35 seconds. With a finer than usual grind, stronger tamping, for a target of 55 g of extracted coffee, a ratio of 1: 3.
The most balanced version was 18g of coffee, 32 seconds with 55 g of extracted coffee in a double espresso. The coffee has some citrus notes, but not very obvious, very low body, and almost no foam on top of the espresso. Somehow expected, given the roasting profile.
In cappuccino, the coffee was more close to a latte, rather than a cappuccino, with the milk being more obvious in taste than the coffee.
In brew, on the other hand, the story changes dramatically. I've used the V60 as preparation method, and here the citric notes are much more noticeable, using 14g of coffee for aprox. 200 ml of water, and total extraction time of 2:30 min.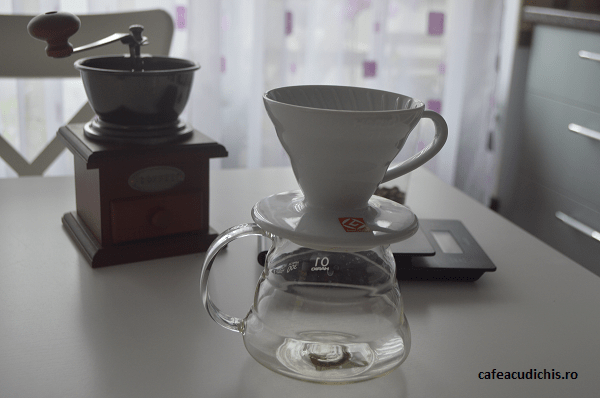 Ethiopia Shakisso from White Label Coffee, is a very good for its designated preparation method, that you shouldn't try in espresso, but much preferably use with a filter preparation method, that needs to be enjoyed thoroughly, in a relaxing weekend morning.
I didn't find this coffee avaialable for purchase in Romania, but if your in Amsterdam, you can find it at the White Label roastery, or at Black Gold Coffee Shop.
Until next time, I wish you all the best coffees!!