Hello there you passionate coffee drinker,
In today's review I want to talk about Nicaragua St. Teresa from Origo Coffee. I've been trying for a few weeks to diversify a bit of the freshly roasted specialty coffee that I'm buying, as a little personal challenge because it's clear to me that my taste profile is predominant in the fruity, floral, citric part, that goes with washed coffee processing, with high acidity and low body.
Eh, the challenge that I've imposed on myself is to diversify my taste experience with the specialty coffee, and try a totally opposite coffee, chocolaty notes, earthy, nutty, more natural or semi-washed coffee types.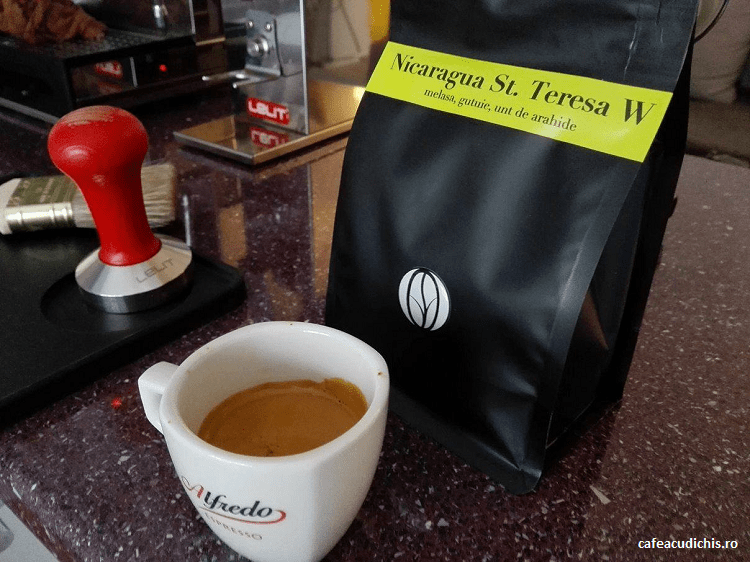 The first from the series was Columbia Supremo, roasted by Claro Cafe, and now the second one is Nicaragua St. Teresa from Origo, one of the most appreciated specialty coffee roasteries in the country, that you can also find in the Coffee City Guides.
Read below my experiments with this coffee.

Nicaragua St. Teresa – Technical details
Origin: Nicaragua
Region: Nueva Segovia
Altitude: 1.250 – 1.400
Variety: Bourbon
Processing: Washed
Roasting profile: Espresso
Notes developed: molasses, quince, peanut butter
Body: high
Acidity: low
Weight: 250g
Nicaragua St. Teresa – Origo Coffee – tasting
Nicaraguan coffee is generally recognized for its sweet coffee with notes of caramel, chocolate or citrus. The Nueve Segovia region, where coffee comes from, is located in the North East of the country, and the vast majority of Nicaragua coffee is also processed by washing, which enhances the sweet or caramel flavor profile of the Bourbon variety.
I tried this coffee in espresso and french press preparation methods.
For espresso I used a similar setting on the grinder as for Columbia Supremo from Claro, 18-18.4 g of ground coffee, and extraction time of 29-30 sec. for 52-53g of extracted coffee, a ratio of about 1:3.
The taste was not the way I expected, it was too bitter and lightly burned, so I increased the granularity of the grinding for a 25 second extraction time target.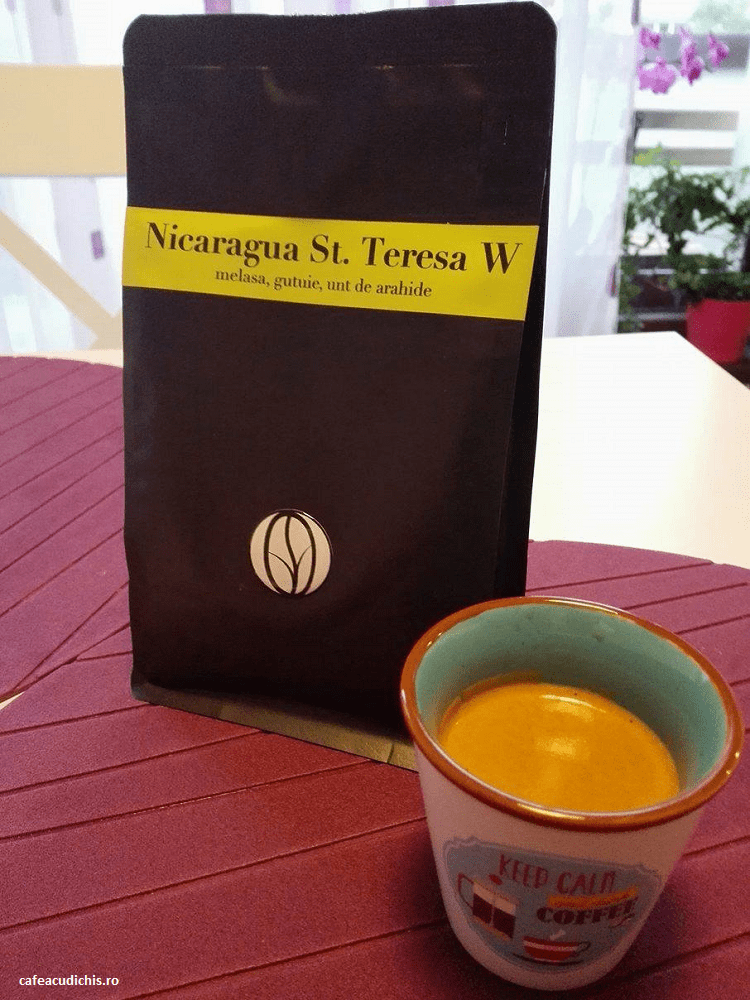 This time it came a lot closer to what I wanted, even if the taste profile, as I was saying, is not my favorite. Judged for what it is, Nicaragua St. Teresa is a taste "bomb", very full-bodied, hot-tempered, perhaps a bit spicy, with notes of chocolate, and caramel in after taste.
In the cappuccino, it is very sweet, and it becomes velvety due to the milk cream, but it also brings a surprise, a burst of dehydrated fruits taste, which you do not expect. Bonus, I tried a more artistic latte with a toothpick 🙂
The next attempt was in brew mode, this time on French Press, 14 g of coffee to 225 ml of water and 4:00 min of infusion time. This time the personality of the coffee was much clearer, as if it had revealed itself to the French Press.
The coffee had a very pleasant feeling at first, almost soft-velvety, a bit dry like peanut butter and an appetizing sweet after-taste.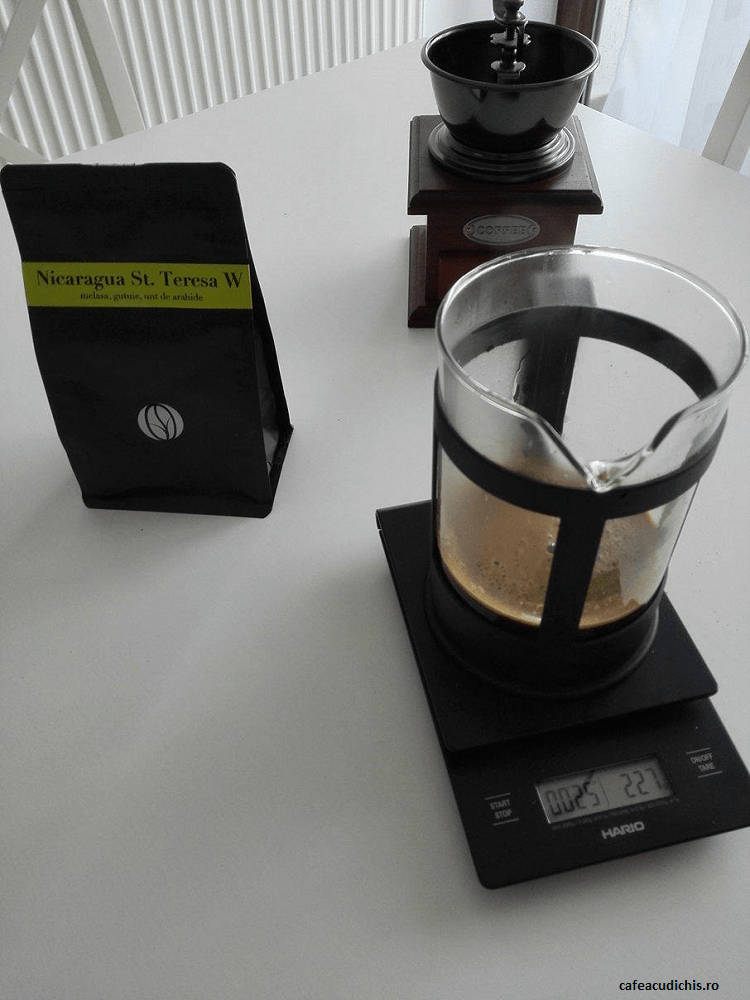 In the end, if you are a fan of this coffee taste profile, Nicaragua St. Teresa from Origo Coffee Shop is a good option worth trying.
You can buy Nicaragua St. Teresa from Origo Coffee Shop in Bucharest.
Until next time, I wish you all the best coffees!!